Definitive MetaTrader 4 Indicators Guide

William Davis
Indicators are an important part of a trader's toolbox. They help in performing technical analysis of currency prices. As the best and most popular retail trading platform, MetaTrader 4 (MT4) comes with numerous out of the box indicators that can be used by simply using the default settings or traders can choose to customize the parameters. Traders can also develop or buy their own custom coded indicators and utilize them on the MetaTrader 4 platform. This indicator guide will detail how to add or modify the standard out of the box indicators as well as install custom indicators.
Adding Indicators on MetaTrader 4
To add indicators on your MetaTrader 4 chart, simply click on the Insert menu, then highlight indicators and you will be prompted to choose the indicator of your choice. There are numerous indicators available out of the box in MetaTrader 4, and they are usually grouped according to their category. For instance, in the picture below, the trader is adding the Moving Average Convergence Divergence (MACD) indicator which falls in the category of Oscillators.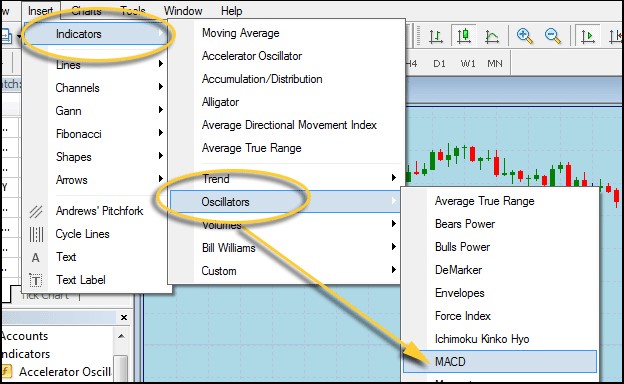 There is also an alternative and quicker method of adding indicators on the same chart. Simply click the indicator icon on the top right side of the chart. The icon is market by a green 'plus' sign and you will be able to quickly add whatever indicator you desire on your chart.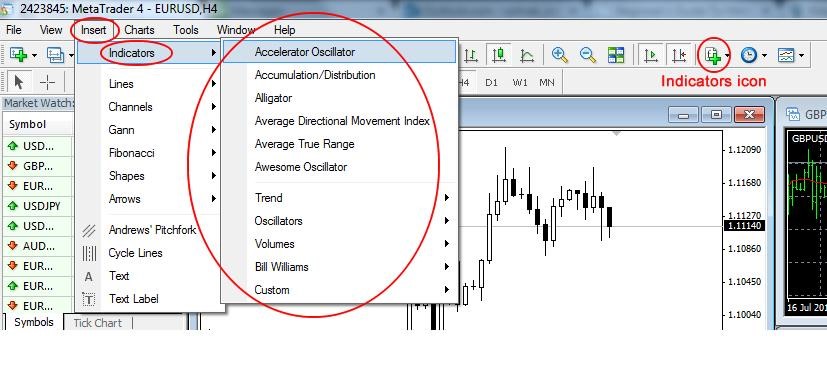 Customization of Indicators
After selecting your desired indicator, a window, similar to the one below, will appear. Your indicator will be immediately added on your chart if you click 'OK'. But there is room for customizing the parameters of your indicator. This option is usually advisable for advanced traders who have more understanding of the technical analysis tools they are utilizing. On the chart below, the trader is customizing the MACD indicator, choosing whether the moving average should be applied to close, open, high or low of prices.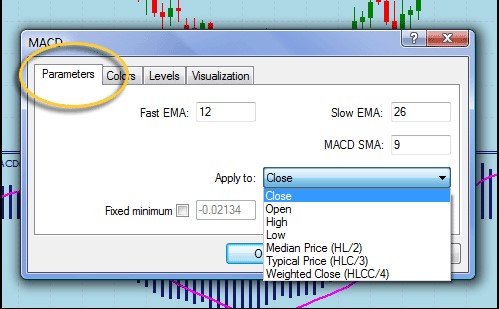 If you have already added indicators on your chart, but wish to customize them, there is an even easier way. Simply use the shortcut CTRL+I. A window will pop up similar to the one below. If you wish to customize the indicator, you will just highlight it and click 'Edit'.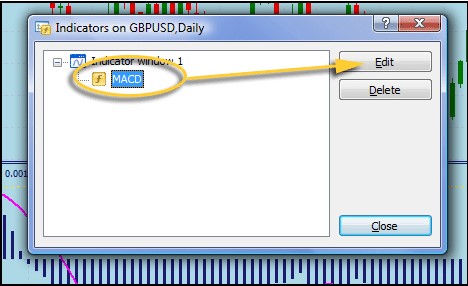 Indicator Guide for Installing Custom Coded Indicators
Custom indicators are one of the reasons why MetaTrader 4 is very popular among traders. You can literally code your own indicator, or use one developed by experienced traders on your own chart.
Here are the steps that should be followed when adding a custom indicator on your MetaTrader 4 chart:
You will first download the indicator to your computer. Locate it and install it on your desktop.

After installing it, right click to copy it.

This third step is very important in this custom indicator guide. Click on your computer's 'Start' button, then 'Computer', then 'Local Disk C' (or where your installed programs are located), then 'Program Files (x86)', then 'MetaTrader 4', and finally 'Indicators'.

Right click there and paste your custom indicator.

Close the MetaTrader 4 platform, and then reopen it.

Click on the View menu and open Navigator.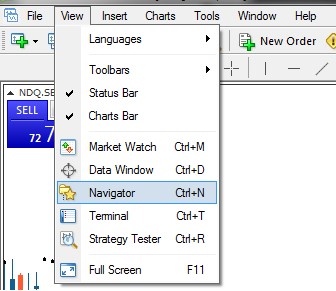 On the Navigator window pop up, find and click Custom Indicators.

Locate your custom indicator by name, and then double click on it. Your custom indicator window will pop up.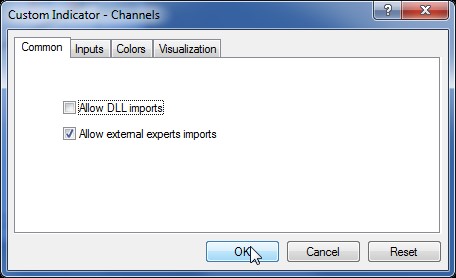 Tick 'Allow DLL imports', then click 'OK'.

Congratulations, your custom indicator will be added on your MetaTrader 4 chart and you can now use it to trade.
Final Word
Trading indicators guide traders in the market through the random and chaotic price behavior of currencies. Knowing how to add the indicators you wish to use to perform technical analysis is very fundamental to the success of any trader. This indicator guide has provided full step by step instructions on how to add your favorite technical analysis tools on your MetaTrader 4 chart.